TELL OUR STORY: Data Warehousing
In our community, our grade-level reading initiative has never focused on creating new direct services. Instead, we have been creating infrastructure that supports existing services and the local agencies which provide them.
One of our main areas of focus has been data. For example, our partnership created a Kindergarten Skills Inventory – the first community-wide measurement of school readiness in the Quad Cities area – which is now being administered annually in all 8 local school districts. In 2014, this inventory will be used to measure outcomes for 4 preschool initiatives that Achieve Quad Cities funded in the current school year.
Our greatest achievement in this arena, however, came in January 2014, when we completed the first phase of the creation of a single data warehouse, which will pool select student-level statistics from all 8 school districts. This warehouse will allow us to come up with a single community-wide statistic for key educational milestones. We will also be able to track educational outcomes for students participating in different local interventions and programs.
Most importantly, the Data Warehouse will allow us to compare student outcomes longitudinally. We will be able to, for example, compare the readiness assessment of each incoming kindergartener this year with their 3rd-grade reading test scores four years from now. This will give us up-to-date local data on early identification of students who will need extra supports to read at grade level – not only by their academic performance, but by demographics, poverty level, and/or neighborhood. It will allow us to create finely-targeted, custom-built interventions to address any specific trends which negatively impact student literacy.
To achieve this level of detail, we will need to collect identified student data – name, address, ethnicity, Individual Education Plan status, etc. – which is normally forbidden under the Family Educational Rights and Privacy Act (FERPA). Many education initiatives get around FERPA by asking for parental permission for access to protected data. We knew, however, that the students we were most interested in tracking were likely to have parents who were not engaged enough in their children's education to return permission slip forms.
Fortunately, FERPA does allow for the sharing of protected, identified information without parental permission if the data will be used for research which will improve educational outcomes for students in the district – which is precisely our purpose in gathering these data. We partnered with one of our local institutions of higher learning, St. Ambrose University, to house the Data Warehouse and conduct this research on our students' behalf.
We have been fortunate to have all 8 school districts sitting at the table since our partnership first formed 5 years ago. Our partnerships always conform to the Collective Impact model, which means that we coordinate our activities with our partners, without ever dictating to the partners how they should or should not conduct their business. This has been particularly appreciated by our school districts, and has allowed them to be more open to considering new community partnerships. This long history and level of trust has allowed us to bring all 8 of our school districts on board to participate in our Data Warehouse project.
The Master Data-Sharing Agreement has been vetted by lawyers, reviewed by 8 school boards, and signed by all 8 superintendents. We are now working with a national data company to customize their software to our purposes. Our Warehouse should be up and live in time for the start of the 2014-15 school year.
This project required almost three years of focused work, and more long meetings than we can count, but the product will be a powerful tool which will help us identify which students most need our help and which interventions in our community are most successful in meeting that need.
We are glad to share more detailed information about our Data Warehouse project, including copies of our Data-Sharing Agreement, with any other GLR community. Contact Alex Kolker at United Way of the Quad Cities Area at akolker@unitedwayqc.org.
Achieve Quad Cities would also like to share this news article from the Quad-City Times about their school readiness efforts:
Looking for progress, one child at a time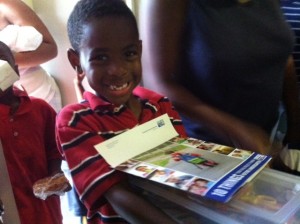 Eight-year-old Trevion flashes a big smile after receiving a container full of supplies like crayons, modeling clay, paper, a jump rope, chalk and scissors. Volunteers worked in Rock Island and Davenport on Friday to distribute the kindergarten readiness kits to families. It was part of the United Way of the Quad-Cities Area Day of Action.
Written by Jan Tourney for the Quad-City Times
June 21, 2013 6:15 pm
"I'm going to share this with my brothers," said 8-year-old Trevion, clutching a plastic shoebox-size container brimming with supplies like crayons, chalk, scissors, a jump rope, coloring pad and modeling clay.
That's exactly what local United Way and education officials working on improving the kindergarten readiness skills of area children want to hear.
Sharing is one of 10 skills deemed necessary for a child to know before entering kindergarten.
Hundreds of the activity kits like the kind Trevion carried home were delivered directly to parents in Davenport and Rock Island on Friday. It's part of an overall community effort to improve the educational success of children in the Quad-Cities and get them to read at grade level by third grade.
What are the other skills?
Having patience. Talking about thoughts and feelings. Getting dressed and using the bathroom. Doing well in new situations. Playing in groups. Holding a pencil and using scissors. Solving problems. Exploring the world and asking questions. Liking to listen to stories.
Sounds like this should be simple, right?
Yet 1 in 6 children in the Quad-Cities are not prepared for kindergarten, according to this skills assessment. It jumps to 1 in 4 children in low-income families.
At the Castlewood Apartments off Davenport's West Locust Street, I worked alongside volunteers who unloaded the activity kits and distributed them to parents and grandparents who gathered in a common area at the complex.
"Are we going to have fun?" Loni Stock asked her 3-year-old, NaLonna Woods, who held on to the activity kit with tiny hands.
The "we" is the critical part.
Jerry Jones, chief operating officer of the United Way of the Quad-Cities Area, said getting parents and caregivers involved in playing with their children, reading to them and with them, and engaging them is so important.
"There are 500 kids we'd like to reach" with the activity kits, he said. "We are audacious and bold with our goals."
But back to Trevion.
As he received the container of supplies, he sported a broad smile and said, "Thank you."
And as I started to ask his last name, he and his grandmother and siblings decided to head for their apartment, running across the parking lot in the pouring rain.
Jan Touney is executive editor of the Quad-City Times. A Chicago native, she joined the Times as managing editor in 2003 after 25 years at the Herald & Review in Decatur, Ill. She's worked as a reporter, copy editor, features editor and city editor. A graduate of Northern Illinois University, she is treasurer and a board member of the national Associated Press Managing Editors. She and her husband, Tom, have two adult sons.